Equipment
Innovation at its best—means only the best state-of-art equipment.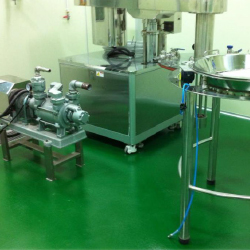 Vacuum Homo Mixer
With Simpor Pharma's Vacuum Homo Mixer, powder mixing can be performed with high performances and in the highest quality.
Simpor Pharma's Vacuum Homo Mixer can be installed in high containment granulation lines for both R&D labs and production. Our Vacuum Homo Mixer can be customized according each single facility requirements to optimize the granulation and the handling process
Key benefits:
GMP compliant
Material traceability
Wide range of split valves
High containment design interface
In-house Vacuum Homo Mixer R&D for your product development
With an advanced interchangeable bowl system, Simpor Pharma's advance Vacuum Homo Mixer has the capacity of up to 2400KG per day.